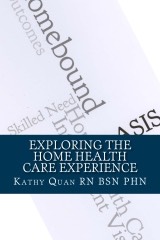 It's here!!!Kathy just published Exploring the Home Health Care Experience: A Guide to Transitioning Your Career Path. Purchase directly from CreateSpace.com https://www.createspace.com/5735429 It is also  available in paperback and Kindle formats on Amazon.com. 
If you'd like an autographed copy, email me for details. 
Kathy Quan has created a course in Documentation Basics for Skilled Home Health Care available through Teachable.com. The Individual Price has been DISCOUNTED to $50 through 12/31/18.  Sign up today!! 
Agencies can sign up for $499 for access to the course to share as part of their education sources. The Individual Price does NOT include this option. 
This course provides focused education on basic clinical note documentation of the skilled need, homebound status, and measureable goals and gains for reimbursement and certification of qualification for skilled home health care. 
It DOES NOT include OASIS documentation. See OASIS for more information about the OASIS process. 
Kathy is also the author of six other books including The Everything New Nurse Book 1st and 2nd editions, and  The Everything Guide to Caring for Aging Parents.  and Autographed copies can be purchased from Kathy's personal website KathyQuan.com.