Tina M. Marrelli, RN has 2 new books available. One is the 2018 edition of the Handbook for Home Health Standards for home health professional and the other, A Guide for Caregiving which is also a great guide for home care professionals assisting families to care for their loved ones.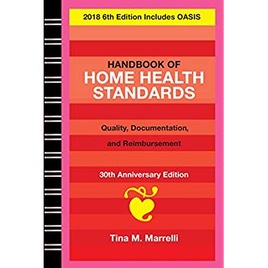 The Handbook for Home Health Standards is now in its (30th anniversary) 6th edition and this one includes an abundance of OASIS information throughout. It's also known by many as the Bible for home health care, documentation, quality and reimbursement. It's truly a must-have in your nursing library; and should be kept in your nursing bag or in your car for quick reference. 
My first mentor in home health introduced me to this wonderful book. My second edition is dog-eared and cherished. It was my life saver countless times. I'm now the proud owner of both of these books — many thanks to Tina herself. I can't recommend them enough!  In a little more than 700 pages, Marrelli breaks down every aspect of the unique practice of home health care for nurses, therapists, social workers and primary care practitioners. 
Tina starts off with Medicare's Conditions of Participations, the general home health paperwork, and then breaks it down system by system to help with assessment, treatment and documentation issues specific to the body system.
The writing is easy to read and follow and provides step-by-step directions to successful care and documentation free of issues for reimbursement.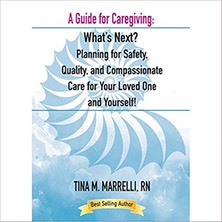 A Guide for Caregiving provides an easy to read and follow guide to all aspects of care giving and where to find help. She explians the home health and hospice care options and spends significant time discussing some of the major challenges caregivers may face with specific problems such as Alzheimer's, Diabetes, Stroke, COPD, cancer and Cardiac care. 
Additionally she discusses bedbug patients, incontinence care, along with care of amputations, specific care needs of the elderly and palliative  and end of life care decisions and processes.